SSTNC Donates to Steward in Training Program.
Two island organisations interested in nature, are working together to pass on those values to young people.
The Salt Spring Trail & Nature Club recently voted to donate $2,000. to the Salt Spring Island Conservancy.
SSNTC Board president, Carron Carson, presented a cheque to the Conservancy's Board chair, Lionel Johnson. "This meaningful contribution will specifically fund the recruitment of volunteers to run our Steward in Training Program," Johnson said.
The Conservancy's Steward in Training Program is offered to all Salt Spring Island students in grades K – 7. Every year students spend a day at one of the island's natural places, engaged in hands-on learning about local ecosystems. Through these hands-on activities, the program helps to develop a sense of place, wonder and curiosity about the natural world thus creating awareness of the importance of preserving Salt Spring's narural areas.
To find out more about this volunteer opportunity, check out:
https://saltspringconservancy.ca/get-involved/stew
Left: Carron Carson, SSTNC
Right: Lionel Johnson, SSC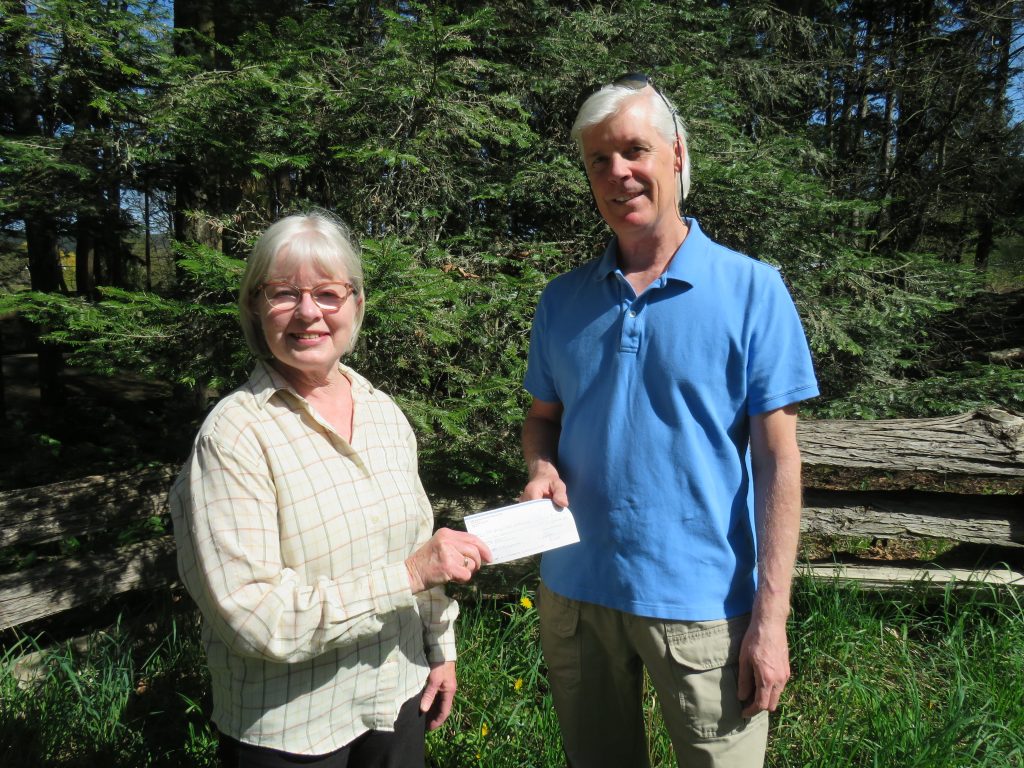 Stewards in Training at Burgoyne Bay
Photo courtesy of Salt Spring Conservancy
---
Update on trail maintenance and development.
Dispite Covid and government intervention, our club has achieved the following accomplishments on our trails this past year thanks to our hard working volunteers.
Trail Development and Maintenance
Cupples Trail. This might be our biggest achievement this year, thanks to an initiative started by Claire and Will Cupples. We now have a 2+ km trail that goes through this beautiful 38-acre property. The access is a farm driveway on the south side of North End Road and just east of #2670. A cedar post trail sign marks the trail access. We planned, cleared, and mapped the trail, and it's already getting many visitors. We're hoping that we can convince the SSIC to allow us to connect their North View Nature Reserve trails with the Cupples trail.
Trinity Western contract. After many years of trying by Philip Grange and Charles, Kees Ruurs finally got Trinity Western to sign an agreement with us to allow us to build a trail through their land. We're hoping to continue this trail to connect an existing route from Beaver Point Road to the Ford Lake Crown land. We're hoping that the SSIC will allow us to connect the Tr9nity Western land with the Crown land by a trail along the perimeter of the Andreas Vogt Nature Reserve.
Mt. Maxwell Provincial Park. BC Parks closed trail 6a in the park and we installed replacement signage. (Sept. 2022). New signs are being prepared for the trails network. We have not seen them yet, but BC Parks informs us that they will be ready in a couple of months. When ready we will install them on the existing posts.
Burgoyne Bay Provincial Park. Slides a couple of years ago caused BC Parks to close some trails, which have yet to be reopened.
Ruckle Provincial Park. In March/April, Kees, Philip Grange, Murray Coates, and Pat Peron built a 20' bridge over the creek in Cusheon Cove to replace the one that was swept away a year ago. In June about 20 of us completed our annual broom cutting work party, eliminating a great swath of broom. We assessed the trail condition and required changes on the Chris Hatfield trail and Yeo Point trail extension several times with BC Parks personnel throughout the year. In November a work party made up of Trail and Nature Club members made the required changes in anticipation of new trail signage coming from BC Parks. Assessed need for a 50' boardwalk through a wet section on the Chris Hatfield trail. We obtained a quote for the cost of the lumber and requested funding from BC Parks. (November 2022). We expect to install it in March.
Mt. Erskine Provincial Park. We have continued to maintain the trails in the park.
Islands Trust Conservancy. We have maintained our liaison with the ITC, and Murray Coates and Charles cleared fallen trees from the Lower Mt. Erskine Nature Reserve. We have a contract with ITC to do this work.
Channel Ridge. We replaced all of the numbered junctions in the Channel Ridge trail system with you-are-here maps so that walkers do not need to photograph the map at the trailhead or carry a map with them to know where they are in the trail system. This work was done in conjunction with PARC, which paid for the new signs and required hardware. The design of the signs was done by Nicholas Courtier (volunteer) and Suzan Chamney (paid professional), and the installation was completed by Nicholas, Charles, Nigel Denyer, and Anna Haltrecht.
KDOL. We cleared the Buddhist Retreat Centre trails of fallen debris and marked them more clearly. We then had one club walk on the trails.
Reginald Hill acquisition. We have been involved with the Nature Conservancy of Canada's fundraising to buy 400 acres of land from the Beach family. We anticipate that we will also be involved in mapping and marking the trail system that will be sanctioned by NCC once the acquisition is completed at the end of March.
Agreement with Trinity Western University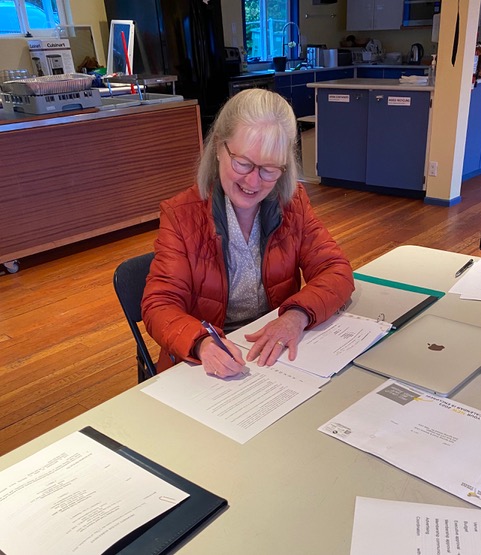 The initial stages have taken place in establishing the trail from Beaver Point Road to the Crown Land, known as the Old Goat Farm Trail. The documents have now been signed by our president, Carron Carson after several years of negotiation with Trinity Western University. Kees Ruurs, Charles Kahn, and Philip Grange were most instrumental in this finally coming to fruition.
Cupples trail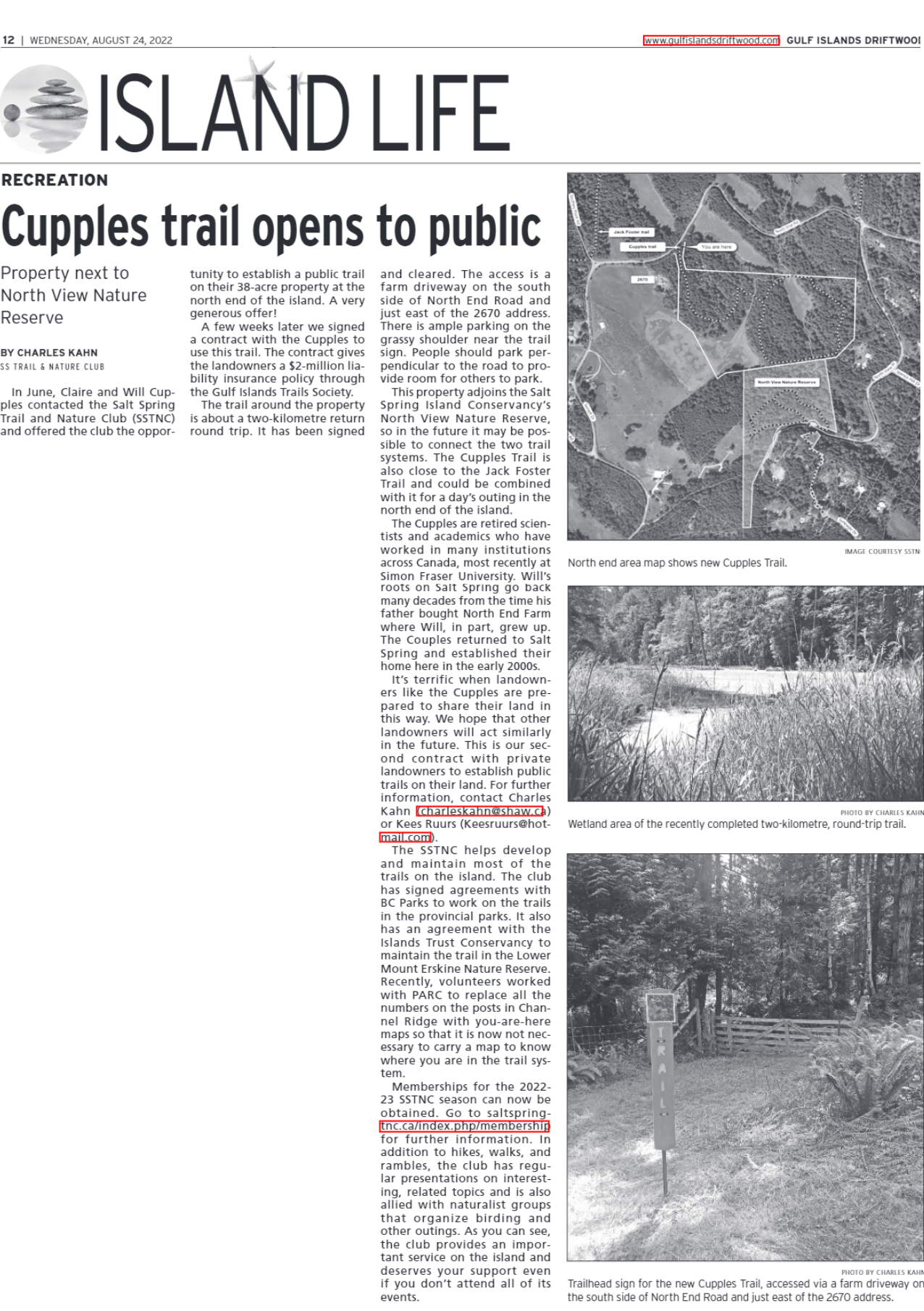 History
Oystercatcher Archives